What is a Payment Interface?
NetCommerce Payment Interface is a software program integrated to a merchant's website to transmit transaction data to the credit card acquirer for authorization and settlement. Merchants gain the ability to perform real-time credit card authorizations from a web site over the Internet. Customers can pay for purchases across the Internet through credit cards within seconds, after NetCommerce obtains authorization from the credit card institutions.
More specifically, NetCommerce provides the necessary Internet infrastructure that enables merchants to accept credit cards payments from websites.

back to top

What does NetCommerce do?
NetCommerce provides complete, simple and secure online payment services and e-business solutions to websites, with real time credit card transaction validation. This enables the websites to transact and accept payments online and in real time.

back to top

What Credit Cards Does NetCommerce support?
NetCommerce supports today Visa and MasterCard and was among the first 100 hundred Payment Service Providers worldwide to have adopted and implemented latest Verified by Visa and secure by Master Card security protocols for the most advanced online e-payment security.

NetCommerce will very soon support American Express as well.

back to top

How secure is submitting payment transactions over the Internet?
Submitting transactions over the Internet can be as secure as providing credit card or check payments in person. All parties involved with processing any payment transaction should be vigilant about protecting customer payment information.

As you seek merchant service providers to work with, be sure to find out about their efforts to meet industry standard security requirements and practices. A professional organization will do everything in their capacity to meet and maintain the highest levels of Internet security—which is why NetCommerce is compliant with maintaining the highest industry security standards, Verified by Visa and MasterCard Secure Code.

back to top

What is 'Verified by Visa' and 'MasterCard Secure Code'? How does it protect me against credit card chargeback?
Every online merchant's worst nightmare is financial and reputation loss incurred through the charge back of online transactions NetCommerce is one of the few websites that has implemented two new security protocols - Verified By Visa & MasterCard Secure Code, which will virtually eliminate the instance of charge backs in Visa & MasterCard Internet transactions:

a) The cardholder cannot dispute that he did not participate in the transaction.
b) Even if the cardholder does dispute his /her participation in the transaction (because his /her card is not enrolled in the Verified By Visa OR MasterCard Secure Code program) the merchant has zero financial liability and the cost of the transaction has to be borne by the bank or financial institution who issued the credit card. Issuer Bank
c) However disputes related to quality and or delivery of the merchandise could still result in a charge back if the merchant has not addressed these issues when the customer has raised queries directly or via his credit card issuing bank.
The Verified By Visa and MasterCard Secure Code process virtually eliminates charge backs.

Verified By Visa
Visa has developed a new online security feature called Verified by Visa that works with existing Visa cards. With Verified by Visa, consumers can rest assured that using their Visa cards on the Web is just as safe as using it at a local merchant around the corner. Additionally, participating merchants receive added protection from fraudulent chargeback activity.
Through the simple Verified by Visa checkout process, Visa card Issuers confirms consumers' identities in real time during transactions at participating merchant sites. And unlike other services that promise online security, with Verified by Visa, merchants initiate the authentication process. Shoppers don't have to load special software or open a digital wallet. So a simple and painless shopping experience is maintained for your customers.

How the Verified By Visa process works
If you are a cardholder then you get a unique password from Visa. Your Verified by Visa password helps ensure that only you can use your Visa card number to buy online.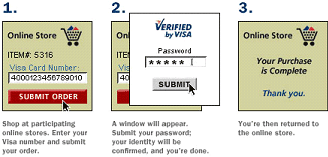 Once your card is activated, your card number will be recognized whenever you purchase at participating online stores. You'll enter your password in the Verified by Visa window, your identity will be verified, and the transaction will be completed. In stores that are not yet participating in Verified by Visa, your Visa card will continue to work as usual.

When the consumer clicks "buy" at checkout, software installed on the merchant server recognizes registered Visa cards and the Verified by Visa screen automatically appears in the consumer's browser.
The consumer simply enters his/her password and the password is verified.
Verified by Visa improves the security of payment transactions in the electronic commerce environment over open networks. It is designed to increase both cardholder and merchant confidence in Internet purchases, as well as to reduce disputes and fraudulent activity related to the use of Visa payment cards. Further benefits of Verified by Visa for e-commerce merchants are highlighted below.

Improve Internet Purchases
Enhance the security and integrity of Internet purchase transactions.
Enable Issuers to authenticate cardholders for Internet commerce.
Increase the confidence of Visa cardholders in making more online purchases, while reducing fraud exposure for merchants.

Reduce Operational Expense
Reduce operational expense and charge backs related to unauthorized use of Visa cards for Internet purchases.
Link authentications with authorization and settlement transactions, to ensure Internet transaction data integrity.
Streamline dispute resolution processes through the use of automated tools to prevent invalid exception items.
Participating merchants receive added protection from fraudulent charge back activity.

MasterCard Secure Code benefits
70% of e-commerce charge backs are "cardholder unauthorized" due to cardholders saying, "I didn't do it." Secure Code gives you a way to reduce charge back and fraud costs.

70% of consumers surveyed by MasterCard say they are concerned with security and fraud issues. Secure Code gives them more confidence.

73% say that enhanced security would influence their decision to purchase online. Secure Code encourages online shopping.

back to top

What is a credit card chargeback?
A refund that is forced by a credit cardholder's credit card company is known as charge back. This occurs when a cardholder decides to formally dispute a charge on his/her credit card bill, usually because someone else fraudulently used that card number. Credit Cards Permit Chargeback's as per their rules any online transaction can/may also be revoked or refuted by a customer to a Merchant via his card-issuing bank for the following reasons. This is allowable for up to 6 months from date of the transaction. a) The Merchant has not shipped the goods or delivered the promised service. b) The Merchant has taken back the goods /cancelled the services but not yet issued a refund on the credit card. c) The cardholder's credit card has been fraudulently used by someone else to procure goods and services - without knowledge or prior agreement of the cardholder.

back to top

Is NetCommerce more secure than other Payment Service Providers?
Yes – NetCommerce uses secure servers throughout. NetCommerce contains a number of features designed for e-commerce security across the Internet. Combined, these features make NetCommerce many times more secure than other "distant" users of a credit card, such as telephone or mail order and of course, its competitors. NetCommerce adopts stringent security measures to ensure that critically sensitive information, such as your customer's personal information, is protected.


Verified By Visa and Master Card Secure Code

NetCommerce have adopted and implemented latest Verified by Visa and Secure by Master Card security protocols for the most advanced online e-payment security.

The Verified by Visa and MasterCard Secure Code are credit card security protocols for cardholder's identity authentication. It has been designed to increase consumer and merchant confidence in electronic commerce and to reduce transactions disputes, thereby contributing to the growth of online sales.

Those VbV and Secure Code are based on a certification requested from and given by the bank issuer through the acquiring bank. The e-payment is directed to the bank issuer and the cardholder is prompted to enter a pass code serving as an online signature for web purchase. The pass code is exclusively known by the cardholder and its purpose is to authenticate that the party using the credit card online is the cardholder in person.


What is Verified By Visa?

Verified by Visa protects an online shopper's existing Visa Card number with a personal password, giving them reassurance that only they can use their Visa Card online. By accepting Verified by Visa authenticated transaction, merchants can absolve themselves of fraud liability, including the related costs, lost of inventory and financial penalties.


What is Secure Code?

Master Card Secure Code was designed to go right to the heart of today's online security concerns. With this solution, cardholders are able to authenticate themselves to their issuer through the use of a unique personal code. Master Card Secure Code requires cardholder to enter their special code in a separate browser window before the transaction can be authorized. Use of this unique personal code give cardholders the added peace of mind that comes with knowing that no one else has access to their Secure Code


Authorization by Secure Payment Processor

All your customers' credit card Authorization is done using NetCommerce Secure Payment System. Your customers enter all their credit card details on the secure servers NetCommerce uses industry-standard SSL (Standard Sockets Layer) Technology, which is used worldwide, for this data encryption.


Authentication by Verisign

NetCommerce is registered with Verisign, the world's best and most trust worthy Net Authentication Agency NetCommerce also follows strict in-house security guidelines for ensuring confidentiality of your customer information. Since the Payment application software is maintained at NetCommerce secure high-end servers, new payment technologies, standards and features are automatically implemented as they emerge. NetCommerce payment system is integrated with risk management component, which empowers them with the ability to control risk effectively. So, without changing your interface, you get the benefits of the latest technologies, which allow you to stay ahead in the rapidly changing landscape of E-commerce.


Added security with the CVM Authentication Process

What is Card Verification Method (CVM)?
The Card Verification Method, or CVM, consists of a 3 or 4-digit numeric code that is printed at the back of the credit card along with (after) the credit card number, where the cardholder signs in his signature on the card. This additional 3 or 4 digit numeric code is neither embossed on the card nor available in the magnetic stripe. This additional 3 or 4 digit is code is featured / incorporated on all Master Cards and Visa cards issued worldwide. Visa calls this security feature as CVV2 and Master Card calls it as CVC2.

Why CVM?
The purpose of CVM is to ensure that the person submitting the transaction is in possession of the actual card, since the code cannot be copied from charge slips / receipts or skimmed from the magnetic band. NetCommerce requests your customer to provide this numeric code for your order and submits it with the authorization through the payment system. The card processor (i.e. Visa or Master Card) will then validate the code supplied with the number on record for the specific card, and return a match/no-match response.

Keeping your customers secure
According to a Gartner Group survey, 98% of the credit card numbers that the hackers / fraudsters are able to collect, are through charge slips thrown away by retailers / restaurants / shopping malls etc., This slip contains the card holder's name, the 15 or 16 digit credit card number and the expiry date. This extra 3 or 4 digit numeric code is not printed anywhere in the charge slip. Therefore the hackers / fraudsters cannot use these credit card numbers on CVM-validated transactions.

World Wide statistics have shown that fraud rates on transactions with verified CVM codes have been significantly lower than those for transactions without CVM (fraud rates on CVM-validated transaction are reportedly 90% lower than those for non-CVM transactions).

back to top

What are the steps that I need to take to start using NetCommerce E-Commerce solutions for my Business?
If you are ready to begin the sign up process, the first thing you need to do is fill out the application form on our website (Click here). Or contact us to send it to you by email or fax.

This will begin the process.

If you have additional questions, contact customercare@netcommerce.com.lb or call 961 1 87 97 09 we will be happy to answer your requests.

Your application will be subject to approval from involved parties, with no commitment.

The approval cycle would be a maximum of 21 days.

The next step following the approval is the signature of the agreements and finally the technical integration of the website.

Every merchant and prospective merchant has full access to our test account. Once testing is completed your account is live. Whenever you feel confident and your website is ready to go live, NetCommerce will put your website online and notify you that your website is ready to do business on the Internet.

back to top

What Company name will appear on my customer's billing statement?
This is a very important point many merchants don't usually consider, your company name or website appears on your customers' billing statements. This eliminates all confusion when your customers receive their monthly credit card statement.

back to top

Does NetCommerce enforce minimum and/or maximum transaction amounts?
You may process transactions for as small as amount as needed. There are no minimum requirements. NetCommerce work with each individual merchant to set and establish maximum amounts.

back to top

Are there some types of merchants that NetCommerce does not accept?
Yes, there are several business types for which we do not offer processing. This is due to the higher risks generally associated with these types of businesses.

• Adult Sites
• Internet Casinos
• Gambling
• Lottery Tickets
• Sending of Money/Cash Advances
• Pharmaceuticals & Drugs
• Goods/Services prohibited by law.

There may be others as well. If you are unsure about your type of business, please contact NetCommerce customer care department at customercare@netcommerce.com.lb.

back to top

Are reports provided with my NetCommerce merchant account?
NetCommerce provides full real-time transaction reporting to each of our merchant. Our Online report consists of detailed transaction and summary reports. Also, with our reporting tools, merchants can process credits (refunds) and manage fraud.

back to top

Do you accept merchants outside of Lebanon?
No. Our primary requirement in order to apply for a merchant account with NetCommerce is for the establishment to have a registered Lebanese company/organization.

back to top

Do you accept multi-Currencies?
Two currencies are accepted on NetCommerce. US Dollars and Lebanese Pounds.

back to top